Dress Code Guidelines
​
The Orange County Academy of Sciences and Arts (OCASA) dress policy is designed to ensure that students are well prepared for academic and social success, appropriate for all school activities and learning.
Students are required to maintain a clean, neat and healthy personal appearance.

Parents are expected to support the school dress policy by making sure their children leave home properly groomed and dressed for school.

Children's appearances should not be distracting to the educational process.

Uniforms must be neat, clean, and in good condition.

There are no age-specific requirements. For example, if a 6th grader would like to wear a shift dress, that is her choice/family choice, but it must be worn with the shirt and tie in that option.

There is no "day of the week" uniform requirement.

If an undershirt is worn, it must match the outer shirt. For example, if a child chooses to wear a camisole/tank top/undershirt under a white button down, it needs to be white in color. Camisoles/tank tops/undershirt do not need to be purchased at Dennis Uniform.

Free dress days are at the discretion of the administration and will be announced via email.

Items may be purchased through any vendor as long as they match the specified colors and styles.

The school administration may announce Spirit Wear days throughout the year. On these days, students are permitted to wear shirts, sweatshirts and accessories sold through the Spirit Wear committee. Students must still wear uniform bottoms, unless otherwise specified.
​
All uniform items may be purchased from Dennis Uniform:
​
​
​
Dennis Uniform
23322 Madero, Unit B,
Mission Viejo, CA
(949) 458-0014
​
OCASA College Prep COVID-19 FAQ
I missed the July Virtual Parent Forums. Is there a recording of the meeting?
---
The July Virtual Parent Forum for OCASA College Prep (6-9) can be viewed below: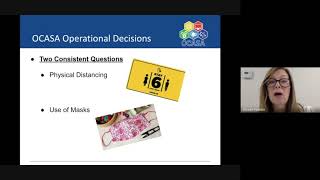 ---
What are the pick up and drop off times?
---
---
What are the online check-in times for students?
---
The amount of time in school must meet the mandates in Senate Bill 98. There will be a combination of virtual meeting times (TBD by grade bands) and assigned work which can be completed by the posted due date during a time that best meets the needs of your family.
---
What are the face mask requirements?
---
- Face coverings, including face shields, are recommended, but not required. - Face masks/shields will be required for all adults unless they have a medical condition. - The Orange County Department of Health and the California Department of Health guidelines do not call for students to wear a face mask; a family may choose to have their child wear a face mask. - If guidance changes from the health departments, this policy may be updated.
---
What are the hand washing requirements?
---
- Students will be provided with hand sanitizer to use upon entering and exiting the classroom. - Students will be able to wash their hands when they use the restrooms throughout the school day. - Every classroom at OCASA College Prep has a sink. We will encourage students to wash hands before meals.
---
Where will lunch be held?
---
- Lunch will be served on both campuses. We are working on logistics to allow students to eat outside if possible. - Distance Learning students may pick up at a lunch at their respective campus.
---
How will you conduct recess?
---
OCASA College Prep does not have recess.
---
How will you handle physical education?
---
- OCASA College Prep has a credentialed PE teacher teaching PE. - All efforts will be made to follow the Department of Health and Department of Education guidelines related to social distancing and equipment cleaning.
---
Will you take a temperature check for each child, each day?
---
- OCASA College Prep will NOT be checking temperatures when staff and students arrive on campus. - Instead, we are asking our families to partner with us by checking each student's temperature at home before leaving for school. - If your student has a fever, please keep them home. - If they are feeling well enough, they can join the class virtually. - Parent Square (our parent communication system) is rolling out the ability to provide temperature notifications to the school.
---
How will you notify us if someone tests positive or is showing signs of COVID-19?
---
- If there is a known case of COVID-19, we will notify families within the child's classroom and notify the OCASA community. - If anyone in your family tests positive for COVID-19 or has been exposed to someone who tested positive, PLEASE quarantine your children for 14 days and we will assist with a transition to distance learning during those 14 days. - We will continue to monitor the guidance from the California and Orange County Departments of Health and will adjust our policies as needed.
---
What does Distance Learning entail? From your email, it sounds like OCASA Distance Learning means remotely watching the in-class lectures/lessons through a remote camera. Is the curriculum, homework, in-class work the same for distance learners as in-class learners?
---
- This is correct. We will be finalizing the details as we get closer to the start of school. - To the best of our ability, the curriculum, homework, and in-class work will be the same for all students.
---
What is the learning plan for students switching from in-person to remote learning or vice versa? Are the curricula the same for both, or synced with each other?
---
Students who move from in person to remote learning will use the same curriculum. Access to the instruction and participation in class will vary depending on grade/band.
---
What are the known circumstances/policy that would necessitate a (temporary or permanent) closure of in-class learning?
---
- It is likely that a confirmed case of COVID-19 that exposed students/staff on campus will cause the closure of a class and 14 day quarantine. - If the guidance indicates that we should close the school as well, we will follow the guidance.
---
Will the "don't send a sick child to school" be more strictly enforced? Can a child who is sick do virtual class so as not to incur absences? (hoping this would stop people sending sick kids to school).
---
- We are asking that families keep students home when they are ill. - Students can participate virtually if they are well enough to do so and it will not count as an absence.
---
Will online students get their own online instruction or will they be watching the classroom session?
---
- Students who participate in virtual instruction will be participating along with their class cohort. - There will not be separate teachers for virtual instruction.
---
Could you explain the mask policy?
---
- We are following the guidelines from the Orange County Department of Health and the California Department of Health which recommends but does not require do not call for students to wear a face mask; a family may choose to have their child wear a face mask. - Should this guidance change, we will adjust our policy accordingly.
---
Will there be virtual classes they need to attend to from home? If so, will they be provided with a computer or do I need to purchase one for him?
---
- Students will be required to attend class virtually from home. Should there be a schedule conflict, instruction will be recorded to view at a later time. - OCASA will provide a chromebook for students to use at home upon request.
---
Is there a minimum number of students who must sign up for in-class learning, else OCASA would switch to an "all remote" teaching mode?
---
There is no minimum for Distance Learning. There is a maximum of 16 students per class who can participate in person.
---
---